Oxford Street Wall Posters 牛津街牆面海報
In Boston, the practice of using public posters—primarily in Chinese and both handwritten and printed—dates to the early 1900s, and centered on a community bulletin board and its surrounding wall at the intersection of Oxford and Beach Streets. Until the early 1970s, this was the central place for communicating information about employment possibilities, legal assistance, local and international news, and political advertisements. Concerns about immigration and residency status, including an announcement of the repeal of the infamous Exclusion Act, were made visible here. Although the original board has long since disappeared, photographs of the posters and some of their readers have been preserved. The Sampan newspaper, the only bilingual Chinese-English newspaper in New England and now in its fourth decade of publication, currently offers news coverage of many of the same topics that once populated the wall.
在波士頓,使用公共海報的做法——主要用中文,既有手寫也有打印——回溯到20世紀早期,主要出現在牛津街和必珠街交叉路口處的社區公告欄以其附近牆面。直到20世紀70年代早期,這裡都是交流僱傭機會、法律幫助、本地和國際新聞以及政治廣告的中心位置。大家在這表達對移民和居住狀況的擔憂,包括廢除臭名昭著的排華法案的公告。雖然最初的公告欄已經消失很久,有關當時海報和一些讀者的照片得到了保存。已經出版30多年的紐英倫地區唯一的中英雙語報紙舢舨報,目前提供曾經出現在牆面上的同樣主題的新聞報導。
---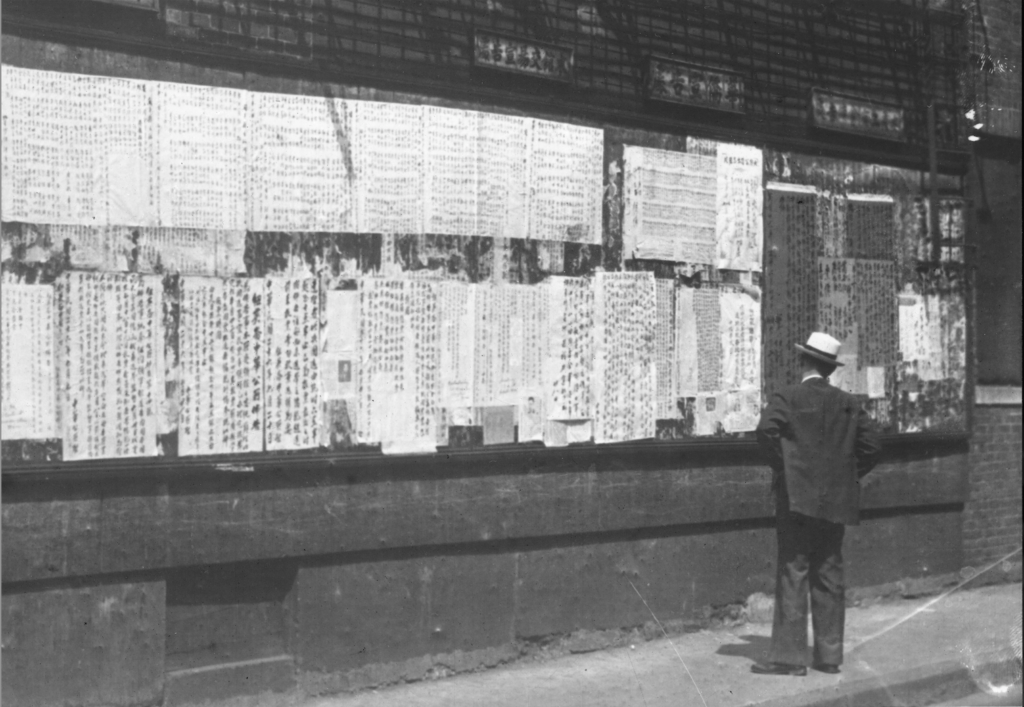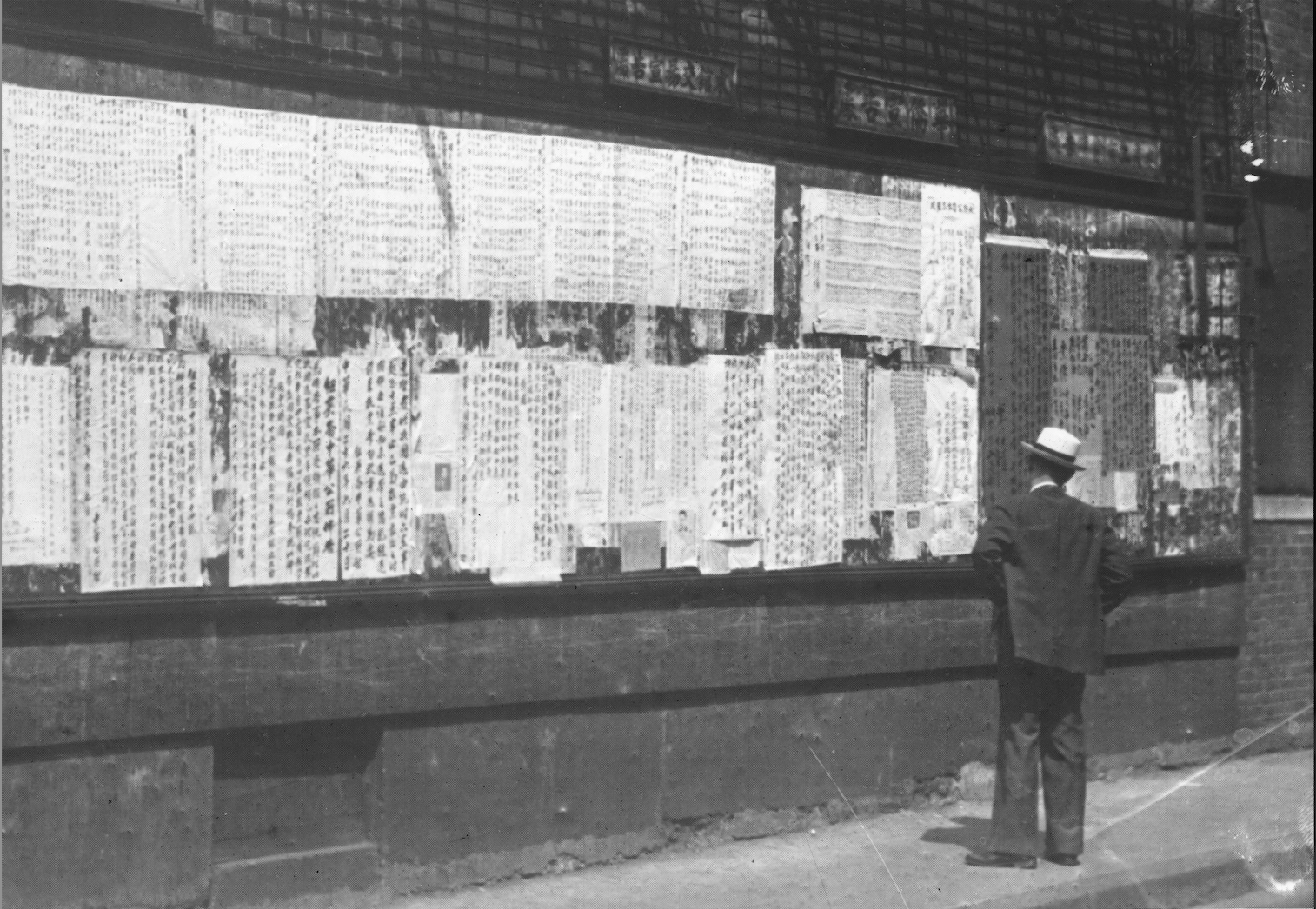 Oxford Street Bulletin Board, 1941   牛津街公告牌,1941年
From the early 1900s until the 1970s, the postings on this expanse of wall were the community's primary source for news, announcements, and job postings. Sections of the board were reserved for different organizations and topics.
從19世紀末期至20世紀70年代,在這個公告牌上的公告是社區獲得新聞、通知和招聘啟事的主要來源。公告牌上的各個部分預留給不同組織和祖逖。
---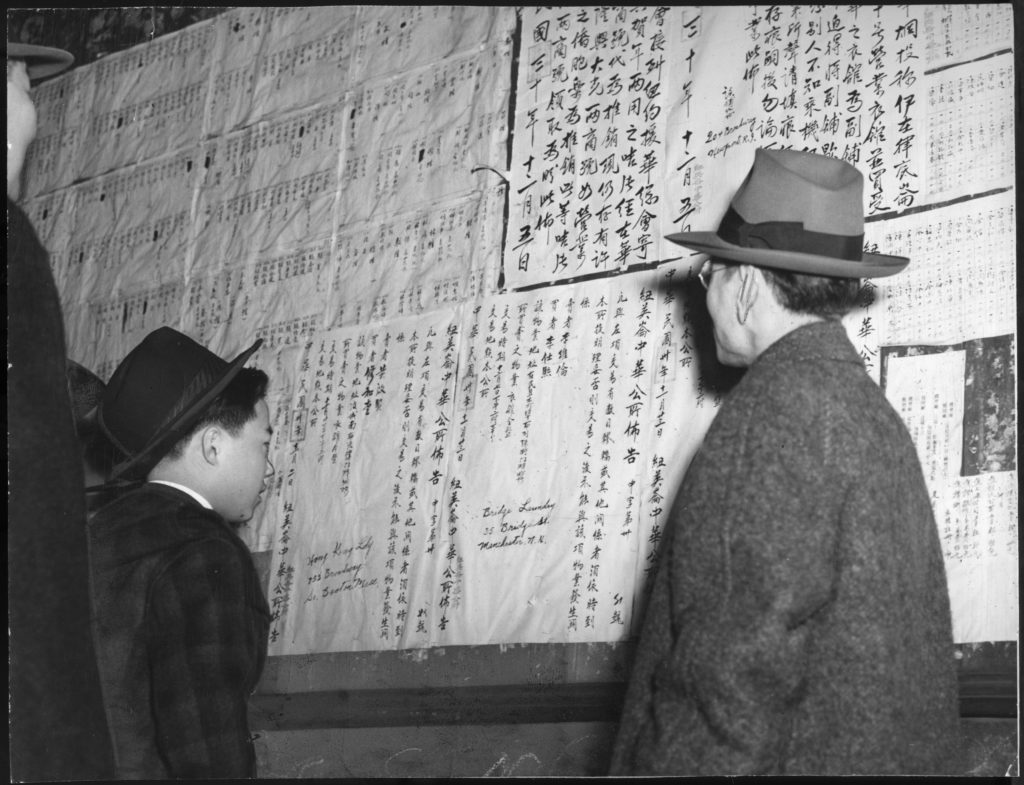 Reading News in the War Years, mid-1940s   在戰爭年代閱讀新聞,20世紀40年代中期
Locals posted printed and handwritten accounts of WWII, a topic of much interest and concern to the community. During these difficult years, the bulletin board helped foster cohesiveness and served as a neighborhood resource center.
在本地新聞和招聘機會旁邊是印刷和手寫的第二次世界大戰的賬戶,社區對這個主題很有興趣,也很關心。在這些困難年份中,公告牌被塑造成「幫助形成凝聚力和一個社區資源中心」。
---
Images courtesy of the Chinese Historical Society of New England 圖片由紐英倫華人歷史協會提供