These Words: A Century of Printing, Writing, and Reading in Boston's Chinese Community
這些文字:波士頓華人社區一個世紀的印刷、寫作和閱讀
August 12-October 30, 2016
China Trade Center
2 Boylston Street
Tufts University Health Sciences Bookstore
116 Harrison Avenue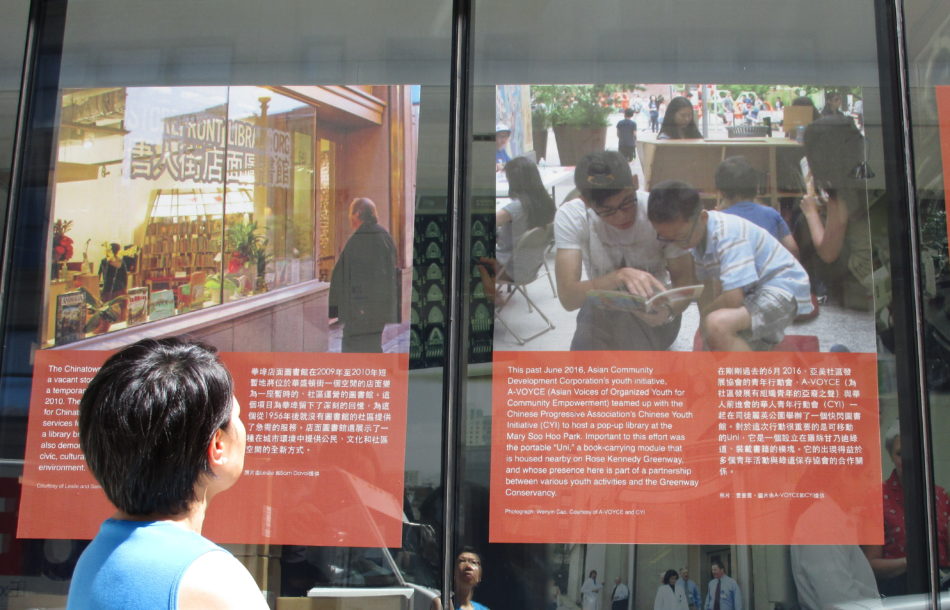 Boston is a city of neighborhoods. Each has a distinctive culture, created by residents' histories, languages, and traditions. Boston's Chinese community is no exception. In the area of Harrison Avenue around Essex, Beach, and Oxford Streets, merchants established businesses in the late nineteenth century that included a very specific group of patrons: the single men who operated laundries in Boston area and beyond, living without their families due to the repressive Chinese Exclusion Act. Many came into the neighborhood on Sundays—the one day free of work for them—to purchase supplies, enjoy familiar food, and socialize. Over time, as families could settle here, and women became influential in commercial and civic life, "Chinatown" grew to became a dynamic community of businesses, restaurants, schools, and community organizations. These Words looks at this neighborhood through another of its histories, as it presents examples of the rich traditions of printing, writing, and reading here.
Collaboration between the Jonathan M. Tisch College of Civic Life, Tufts University, and the Chinese Historical Society of New England. This program is funded in part by Mass Humanities, which receives support from the Massachusetts Cultural Council and is an affiliate of the National Endowment for the Humanities.
波士頓是一個由各個社區組成的城市。每一個社區有它們自己獨特的文化,由居民的歷史、語言和傳統所構成。波士頓的華人社區也不例外。在夏裡臣街、愛惜士街、必珠街和牛津街組成的區域,商人們在19世紀後期建立了自己的企業,包括一群非常特殊的主顧:在波士頓及以外地區經營洗衣房的單身男性,因為排華法案無法與家人一起生活。很多人在周日來到這個社區——他們在這一天不用工作——來購買物品、享受熟悉的食物並且進行社交。隨著時間發展,家庭可以在此定居,女性對商業和公民生活的影響力加強,華埠成長成為由企業、餐館、學校和社區組織構成的活躍社區。這些文字通過另一種歷史來看待這個社區,展現社區印刷、寫作和閱讀豐富傳統的例子。
塔芙茨大學Jonathan M. Tisch公民生活學院和紐英倫華人歷史協會的合作

---
Oxford Street Community Bulletin Board
In Boston, the practice of using public wall posters—primarily in Chinese and both handwritten and printed—dates to the
early 1900s, and centered on a wall at the intersection of Oxford and Beach Streets. Until the early 1970s, this was a primary place for communicating information such as employment possibilities, legal assistance, local and international news, and political advertisements. On this expanse of wall, important information on immigration and residency status was made accessible. Although the original board has long since disappeared, photographs preserve a valuable record of its contents and some of its readers. Sampan, the only bilingual Chinese-English newspaper in New England and in its fourth decade of publication, currently offers news coverage of many of the same topics that once populated the wall.
牛津街牆面海報
在波士頓,使用公共海報的做 法——主要用中文,既有手寫也 有打印——回溯到20世紀早期, 主要出現在牛津街和必珠街交叉 路口處的社區公告欄以其附近牆 面。直到20世紀70年代早期, 這裡都是交流僱傭機會、法律幫 助、本地和國際新聞以及政治廣 告的中心位置。大家在這表達對 移民和居住狀況的擔憂,包括廢 除臭名昭著的排華法案的公告。 雖然最初的公告欄已經消失很 久,有關當時海報和一些讀者的 照片得到了保存。已經出版30 多年的紐英倫地區唯一的中英雙 語報紙舢舨報,目前提供曾經出 現在牆面上的同樣主題的新聞報 導。
---
Shanghai Printing Company
When Henry You Min Wong (1913-1992) came to Boston in the early 1930s from southern China's Taishan (Toisan) region, he joined a cousin's small printing business. Three years later, Wong bought the press and renamed it the Shanghai Printing Company. For many years, it was the leading source for Chinese- language printing in New England. The press produced civic documents and social announcements, laundry tickets, brochures for Chinese and Chinese-American students at local universities, and menus for Chinese restaurants across New England. In addition to his activities as a printer and publisher, Henry Wong worked for fair housing and improved labor practices in Chinatown and also advised many residents through the immigration process.
上海印刷公司
當王耀敏(1913-1992)在20世 紀30年代早期從中國南部的台山 地區來到波士頓的時候,他加入 了一個表兄弟的小型印刷企業。 三年後,王買下了這個印刷公 司,重新命名為上海印刷公司。 在之後多年,它都是紐英倫地區 中文印刷的領導力量。這個印刷 公司為華人和本地大學的華裔學 生印刷公民文件和社會公告、洗 衣票、宣傳冊,為紐英倫地區的 華人餐館印刷菜單。除了印刷和 出版的活動,王耀敏還致力於華 埠的公平住房和改善勞工關係, 並且為很多居民提供移民過程的 建議。
---
Boston Public Library Branches
For sixty years, beginning in 1896, residents of Boston's Chinese community enjoyed access to English-language books from the Boston Public Library. The first location was a reading room at 202 Harrison Avenue, with daily book deliveries from the main library. In 1916, a reading room opened in a municipal building at the corner of Tyler and Oak Streets and became a full branch in the early 1920s. It provided books for adults, storytelling for children, and sponsored cultural and literary activities. When the branch closed in 1938, the neighborhood, including its children, organized protests. Thirteen years later, in 1951, a branch briefly returned to the Tyler Street location, but permanently closed in 1956. The building remained there until 1970, when it was demolished and became part of the site for Tai Tung Village, an affordable housing complex owned by the Chinese Consolidated Benevolent Association.
波士頓公共圖書館分館
從1896年開始之後的60年,波士 頓華人社區內的居民享受了波士 頓公共圖書館內的英語書籍。第 一個地點是位於夏裡臣街202號 的一個閱讀室,每天有書籍從公 共圖書館運送過來。在1916年, 一個閱讀室設立在泰勒街和屋街 拐角處的市政建設大樓內;它在 20世紀20年代早期成為一個完成 的圖書館。這裡為成人提供虛構 類和非虛構類閱讀材料,為兒童 提供故事書,並且贊助文化和語 言學習活動。當圖書館在1938 年關閉時,整個社區,包括這裡 的兒童,參加了有組織的抗議活 動。13年後,在1951年,一個 圖書館短暫地回到了泰勒街的位 置,在1956年永久關閉。整棟建 築保留至1970年,然後被拆毀, 所在的位置成為中華公所擁有的 經濟住房大同村的一部分。
---
Civic Engagement and Library Advocacy
For the past six decades the neighborhood has been without this important resource, but that is not to say that the community has not worked to have its branch returned. Since 2001, the community has advocated for a neighborhood library through its "Friends of the Chinatown Library" committee. Through these years, the Chinese Youth Initiative and other community groups have sustained the effort, leading community discussions, focus groups, and events. Volunteers operated a temporary "storefront library" from 2009 to 2010 in a commercial space on Washington Street and a reading room at the Oak Terrace complex. Most recently, the youth group sponsored a series of library service days for different age groups. Today, a neighborhood branch would have many features that extend the resources of the past: collections in Chinese, computer terminals and spaces for meetings and quiet study, and and a broader diversity of programming.
公民參與和圖書館爭取
在過去60年,整個社區沒有圖書 館這個重要資源,但這不意味著 社區沒有努力讓圖書館重歸。從 2001年起,社區一直通過「華埠 圖書館的朋友」委員會爭取一個 社區圖書館。在這些年裡,華人 青年行動會和其他社區團體一直 在努力,領導社區討論、焦點討 論小組和活動。志願者於2010年 在華盛頓街的一個商業空間運營 了一個短期的「店面圖書館」, 在華信屋運營了一個閱讀室。最 近,這個青年團體贊助了一系列 針對不同年齡團體的圖書館服務 日。如今,一個社區圖書館應該 有很多功能來擴展過去的資源: 中文書籍、電腦終端、進行會議 和安靜學習的空間,以及種類豐 富的項目。
---
.