The early Chinese immigrant pioneers were typically sojourners–workers looking for a piece of the Gold Mountain to take back to China to help their families. Many faced conditions of racism, exclusion and economic exploitation, even as they helped transform America by building railroads, establishing fisheries, harvesting crops, and producing in factories. Our place today in this society rests, in part, on their legacy. It is in memory of their unrecognized struggles and profound contributions that we offer the Sojourner Award.

2017 Sojourner Award Recipients: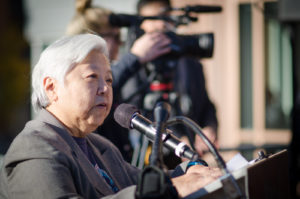 Caroline Chang
Caroline Chang grew up in Chinatown, on the historic Hudson Street. Chang dedicated her life to community causes as a founder of CHSNE and as a founding Board Member and President of the Asian Community Development Corporation. She also served as the Manager of Chinatown's Little City Hall for the Mayor's Office of Public Service in the 70s, and as Regional Manager for Office for Civil Rights for the US Department of Health and Human Services for over 20 years.
American Legion Boston Chinatown Post 328
The American Legion formed in 1919 to provide services to veterans, service members and communities, and has evolved from a group of war-weary veterans of World War I into one of the most influential nonprofit groups in the United States. Over the years, the Legion has influenced considerable social change in America, won hundreds of benefits for veterans and produced many important programs for children and youth. Post 328 members are mindful of the American Legion creed of "For God and Country" and continue to uphold its tradition for the love of duty, honor, God, country, and community.
Past recipients:
2016 – Amy Guen, South Cove Community Health Center
2015 – Arthur Wong, Gary Libby
2014 – Boston Dragon Boat Festival
2013 – South Cove Manor
2012 – Billy Chin, Jill Cheng
2011 – The Boston Knights Chinese Athletic Club, Davis Woo
2010 – Madeline C. Wong
2009 – Shanghai Printing Company, Sun Sun Company
2006 – May Lo, Felix Lui, Wang YMCA
2005 – Frank Chin, Chee Kong Tong / Chinese Freemasons
2003 – Bo Sim Mark, National Archives and Records Administration, Northeast Region
2002 – Tunney Lee, Schlesinger Library
2000 – Sampan Community Newspaper
1998 – Neil Chin, Kew Sing Music Club
1997 – William Seam Wong, Joseph Yuu, New England Chinese Women's Association
1996 – Paul Chan, Doris Chu, Eugene Wu, Kwong Kow Chinese School (Fung Ming Lee, Principal)
1995 – Aili S. Chin, David S.Y. Wong, Reginald Wong
---