The Schlesinger Library, the research library on the history of women in America at the Radcliffe Institute for Advanced Study at Harvard University, and the Chinese Historical Society of New England are co-sponsoring the project. The Chinese-American Women Oral History Project documents the lives and activities of Chinese-American women living in New England. This glimpse into the Chinese experience in America focuses, on women from a broad range of life experiences.
We wish to interview women who will speak about their lives. The recollections will be preserved and made available to interested scholars, researchers, and the community.
Process:
• A member of our committee contacts the woman to see if she is willing to participate and makes arrangements for the interview.
• The interview occurs at a convenient time and place, in the language she finds comfortable, whether English, Cantonese, Toisanese, Mandarin, or other Chinese dialect.
• No advance preparation is necessary. The woman only needs to be willing to share her experiences. She does not have to answer any questions or talk about any topic that she does not wish to.
• The tapes are transcribed, and the text is sent to the woman for corrections and approval.
• The original tapes and text are kept in the archives of the Schlesinger Library and copies are kept in the offices of the Chinese Historical Society of New England.
• The oral histories will be available to scholars and others who are interested, subject to restrictions placed by the woman herself.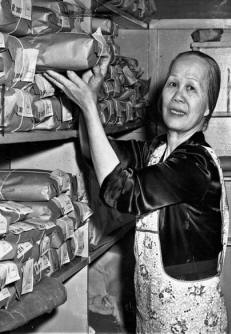 Sample Interview Questions:
The interviewer will ask about life experiences – such questions as:
• What is your family background?
• What significant events happened in your childhood?
• When you first came to America, what were your experiences?
• What kind of work have you done?
• Which Chinese traditions do you follow?
Whom We Want to Interview:
We are interested in Chinese-American women who have lived or worked in New England before 1965. Priority will be given to women over the age of 60. They may speak either Chinese or English, and they can be from all walks of life.
---
How You Can Help Us:
We are looking for candidates to interview. If you know of individuals we might contact, please tell us. You can fill out this form to submit a name or names of persons whom we might contact, and mail it to us.
If you would like to volunteer or know of someone who can speak Cantonese, Toisanese, Mandarin, Hakka, Fukienese, or another Chinese dialect, please contact us.
Let us hear from you. Join us in the effort to maintain our precious heritage.
For more information, or to send forms or contributions, please contact us!
---