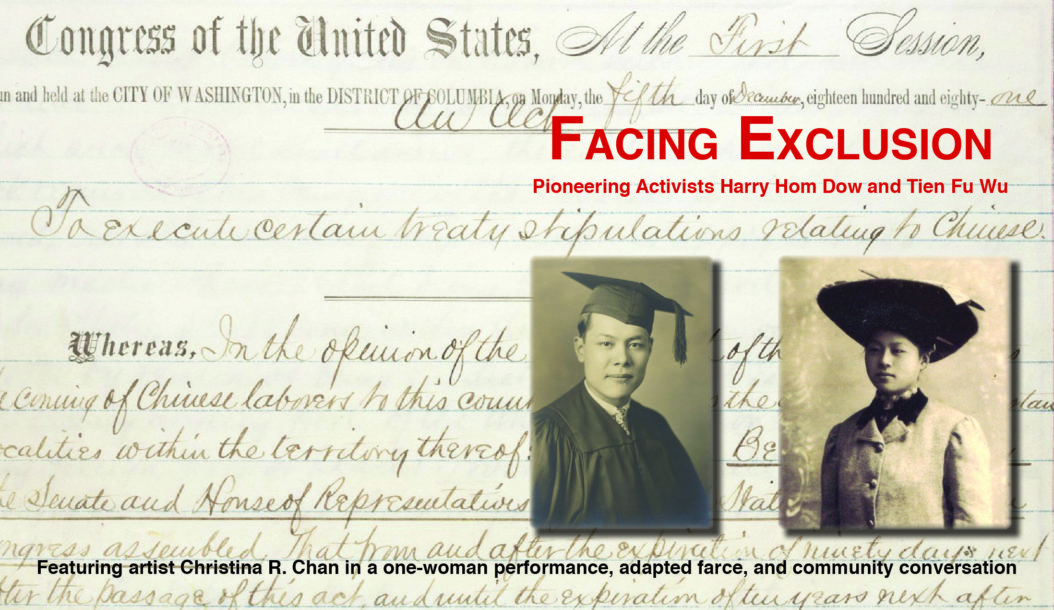 By
Susan Chinsen
Facing Exclusion:
Pioneering Activists Harry H. Dow and Tien Fu Wu
A one-woman performance, adapted farce, and community conversation
Opening Night & Reception: Friday, March 17, 7:30pm-10:00pm
Matinée: Saturday, March 18, 2:00pm-4:00pm
ArtsEmerson/Paramount Center, Black Box Theatre
Part of ArtsEmerson's Community Curators program, CHSNE will present a performance of Nutzacrackin' Immigration and Naturalization depicting a fictional immigration interrogation during the Chinese Exclusion Act. The original script was written by Harry H. Dow, a Suffolk Law School graduate who became the first Chinese-American to pass the Massachusetts Bar exam in 1929. Christina R. Chan, a local actor, playwright, teaching artist and director, adapted the script for this performance. Chan will also present a selection from her one-woman play, Unbinding Our Lives, on the lived experience of Tien Fu Wu, a Chinese women living in San Francisco at the turn of twentieth-century—also in honor of its 25th anniversary.
Featured performers also include Eric Cheung (Yung), Tim Corbett (Chief Inspector), Alexander Holden (Dow), Sophia Koevary (Miss French), Danny Mourino (Rosen), and Josh Santora (Mulloy).
To close the program, a panel discussion and community conversation will connect this history to present day. Panelist include:
Friday
Moderator: Patricia Reeve (Suffolk)
Christina R. Chan
Ragini Shah (Suffolk Law)
Paul W. Lee (Community Leader)
Saturday
Moderator: Elisa Choi (MA Asian American Commission)
Christina R. Chan
Ragini Shah (Suffolk Law)
Stephanie Fan (Community Leader)
All ticket proceeds to benefit CHSNE—now celebrating its 25th anniversary!